200 years ago in the village of Lacanche in France, a local landowner decided to start manufacturing Cast Iron Range cookers in his blast furnace. These were initially built for the restaurant and hotel markets before heading in to the domestic market. Each Range cooker is made by hand and it is still a family run company and independently owned.
Building your dream Lacanche cooker.
Each cooker is made bespoke for you. With every Lacanche cooker you can choose various hobs, oven sizes, integrated hob elements, dual fuel options, trim colours and enamel colours.
Each panel is hand enamelled with three layers and fired at 850°C with a range of colours to choose from, it makes matching to your perfect colour scheme in your kitchen an easier job especially as here at Monkeywood we paint your units to any colour of your choice.
There are two styles of Lacanche; The Classic and The Modern. The Classic model gives you the control panel in the same enamelled finish as the main cooker with traditional cross handle knobs. Where as the modern model comes in a stainless steel finish on the control panel and simple, round control knobs.
Once the style has been confirmed, the next choice is the hob configuration, with a choice of standard or integrated hobs which include wok burners, deep fryers or simmer plates. Next up is oven choice with a choice of combinations. Most people choice includes one gas oven and one electric oven but can be made to which ever combination that you prefer including the option to have a separate simmer oven. All oven sizes are measured in litres and are covered with at least three coats of enamel for easy cleaning.
Choosing the colour of your Lacanche
The Lacanche cookers whether it's classic or modern comes in a range of 29 colour options. Each cooker is enamelled by hand with a high silica content which results in a deep lustre allowing the cooker to look just as good in 20 years as it does the day that it's delivered. There is also the option of colour matching for an additional charge.
Once you have chosen your colour, you can then choose your trim finish. The 'Trims' refer to the finish on the handles and knobs. The top towel rail and oven door handles are always stainless steel. Burner caps are always Brass. With a choice of six finished to choose from, the trim will complement the colour of your cooker perfectly.
Size matters
One of the most popular Lacanche models is the Cluny with it's symmetrical and attractive design. The 1m wide model offers two large 55L ovens with dual fuel versatility as well as two storage drawers below. This can be viewed in our showroom here at Monkeywood.
Cormatin and Rully
These two models are the smallest of the Lacanche cookers, measuring 70cm. This compact model offers a large 70L oven with a storage drawer below.
The Rully is only available in the Classic range and offers a 27L electric oven and grill above it's main oven.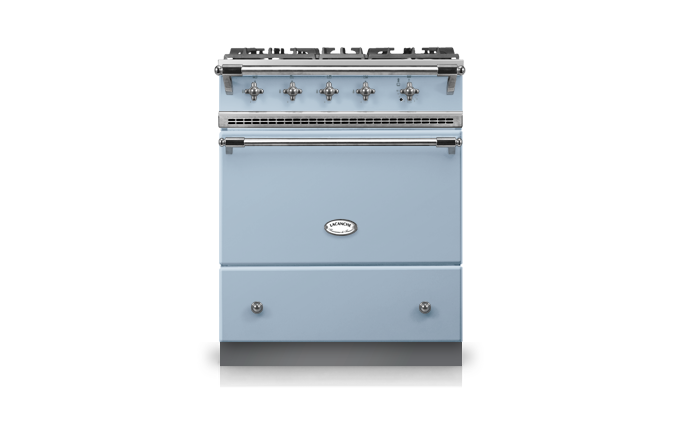 Beaune and Bussy
These two models are 90cm wide. The all new models boasts the versatility anbd performance of the large cookers. With a large 65L dual function static/convection oven and grill with storage drawer.
Savigny and Saulieu
Slightly wider than 1m, these two models are 1105mm wide with our fully height vertical oven and grill and a second large oven with warming drawer below.
Chalonnais
The simple layout of the Chalonnais is very appealing to the home chef. With a good size of 1.4m it has the aesthetically pleasing symmetry of the Cluny but with more space.
Over 150cm…
The sizes don't stop at 1.4m. Lacanche offers a range of models 1.5m and going up to 2.2m. These include the Citeaux , Flavigny, Avalon, Belmont and Vezelay. All well proportioned and suitable for the most professional of cooks.
Lacanche Accessories
Lacanche offers a huge range of accessories to complement their high quality cookers including extractors, backsplashes, utensil racks and gastro containers.
It's easy to see why Lacanche cookers are popular across the globe, with the professional build quality and high performance as well as the attractive and versatile designs. Here at Monkeywood we are proud to be an approved dealer of Lacanche cookers so get in touch to find out more.